KCD Israel Unplugged: My Thrilling Cloud Native Adventure in Tel Aviv!
Awesome days at the first KCD in Israel!
A KCD in Tel Aviv? Hold my beer!
When I saw this tweet on my "For You" page, I knew that I needed to submit a CfP.
There's no shortage of meetups, conferences, and user groups out there, and most of them are top-notch and definitely worth attending. If only I could visit them all, with an endless budget! Conference in Japan? Konnichi wa! How about India? Namaste, here I come!
But alas, that's not my reality. So, every year, I start my search for the most exciting conferences to add to my agenda. One of my go-to sources for this is Aurélie Vache's fantastic repository:
And, for real, KCD Israel is one of these highlights! I had to submit a CfP. After quickly confirming that English presentations were welcome, I got to work.
Time to craft the perfect CfP!
I'm currently employed by Pulumi, and my position in a cloud-native startup provides endless inspiration for talk ideas! Plus, I genuinely enjoy sharing my knowledge and engaging with others.
When Things Don't Go as Planned
Well, this is what can happen:
Yes, sometimes CfPs get declined. There are countless reasons for this, and it used to frustrate me to no end.
But that's just the name of the game! You win some, you lose some. As the French say, "c'est la vie"!
Despite the rejection, my manager at Pulumi and I agreed that it still made sense for me to head to Tel Aviv. We have clients there, and it's a great opportunity to engage with the local community and get a feel for the cloud-native landscape.
So Shalom Aleichem KCD Israel! I'm coming for you!
Day -1: Flight and the first evening
Bright and early, I drove to Frankfurt and boarded my flight to Tel Aviv.
It was a 5 hours flight out there, very calm and relaxed. Most of my fellow passengers were Germans embarking on a journey to explore the Holy Land! When they asked me where I was going, they were surprised that I go to a tech conference!
Check out this stunning shot of our approach to Tel Aviv
After I arrived, I went out to grab something to eat. Luckily I meet with Viktor Farcic and had a very good lunch that evening. And as you can see from the picture, a very intense first talk about GitOps, Security and Infrastructure as Code!
The conference day!
Finally, the day of the conference! Yeah! I put on my best Pulumi swag shirt and head off from my hotel to the venue center.
Quickly, went to collect my badge to then head over to the main stage to wait for the KCD to start!
Important: Find a spot in the middle! It is really like the cinema! You don't want to sit too far away from the action!
So, I think I get one of the best spots in the main stage place! Ready to enjoy a day of cloud native!
I am still very shy, when it comes to taking selfies! I need to learn how to smile!
The organization team
Big thanks and shoutout to the organization team (Shimon Tolts, Dana Fine, Arthur Berezin, Dotan Horovits, Itay Shakury and Ronen Levinson) of KCD Israel and their well-deserved big round of applause.
Shimon Tolts spend some time explaining the values of this event, unfortunatly it was on Hebrew and I was not able to understand everything but the slides transported the message very well.
The first talk of the conference was from Lori Lorusso called The CNCF & You - Growing Community in the CloudNative Landscape
She gave a very good talk about the growing community and the role of the CNCF! Very interesting to hear, as I did not understand before all the parts of the CNCF.
The next speaker was Andrew Martin and his talk: The Irresistible Rise of Cloud Native: What the Future Means for YOU
First time I listen to a talk from Andrew and I thoroughly enjoyed his prediction on what the cloud-native future will be. Of course, he mentioned things like WASM and platform engineering!
Next Daniel Gur about Prometheus That Scales. This talk was very interesting, as Daniel shared his experiences and lessons learned from running Prometheus at scale in his company Outbrain!
Next was from Lior Yantovski and Chen Fleisher about GitOps with Argo CD and Helm: Managing Your Kubernetes Repository. This talk was in Hebrew so I had to rely on the slides and the people in the audience!
Even though I did not understand the talk, I loved on memes on their slides!
Yepp, you should never
kubectl apply ...

in production! Use GitOps!
Funny is also the amount of Kelsey Hightower quotes on the slides! Here is number one!
Now we had three lighting talks going on. I could not take a picture of all of them, as I wanted to listen to them and they were really quick with their slides:
Udi Rot with Caretta: Mapping Services With eBPF

Benny Rochwerger and Never Go Limitless – On the Importance of ResourceQuotas at the Edge
Very important talk and a call for all Kubernetes ops teams: Set your resource quotes on edge Kubernetes clusters!

Anton Weiss: The Promise of WASM
No further explanation needed! WASM so hot right now!
Time for the lunch break, and I had the time to stroll a little bit through the booths. I spotted this nice booth from groundcover! I love this kind of statements!
Monitoring is worthless
Next to visiting all the booths and eating delicious hummus, I had the opportunity to talk to different persons at the venue about all things cloud and infrastructure as code. Interesting to see how people think and knew about Pulumi.
After the lunch break, we continue the talks with Knative: Is it for me? from Elad Hirsch and Kornel Chlebovics.
I love event-driven architecture and Knative is one of my preferred projects. I worked with it since nearly day one on our Openshift Clusters at my former workplace. I organized a meetup around this too. Check out the recording, if you are interested into!
And it is time for the second Kelsey quote of the day! And tbh, you can't repeat the great quotes of Kelsey enough!
The next talk is Kubernetes Reloaded: AKA How to Avoid the Dev Plateau with CRDs by Rona Hirsch and Guy Menahem!
CRDs are crucial to extending Kubernetes to your needs and Rona and Guy did a great work to explain what CRDs are under the hood!
And the last Kelsey quote of the day!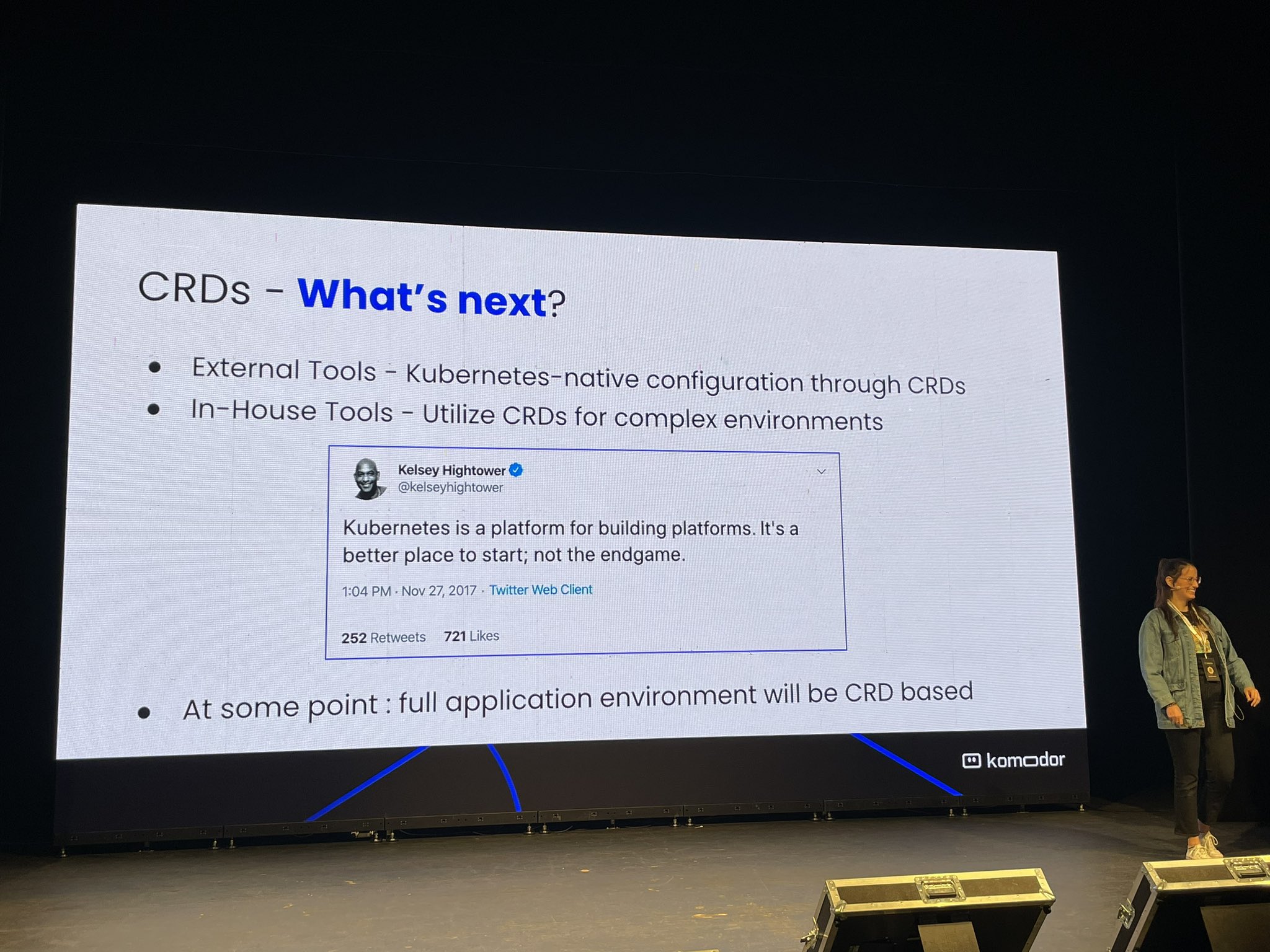 A quick switch of the speakers on stage and we are already in the next talk The Power of OPA Gatekeeper: Enforcing Kubernetes Access Control to secure your runtime from Batel Zohar Tova and Dana Rozen
They talked about how to secure your Kubernetes environment using the OPA Gatekeeper while using ArgoCD! Very powerful combo and a good talk!
Eran Bibi from Firefly gave the next talk Enter the Machines: Reducing Friction in Cloud Native using AI
He talked about using AI for code and config generation! A very good talk and fits very well the current trend on LLM and GPT!
The talk from Boris Cherkasky about Stop The Kuberspendes - Getting Your K8s Cost Under Control I did not visit, as it was in Hebrew. I used the time with talking with people in the exhibition area! Was also very good and fruitful for me!
And now the last talk of the event comes from Viktor Farcic called Shifting Left Stateful Applications In Kubernetes!
Always enjoy the talks of Viktor and this one was no exception. He explained on how to run stateful apps in Kubernetes in a self-service approach without the need to open a JIRA ticket and wait that others to perform the task for you!
And with this talk, the KCD Israel 2023 ends. Last time I hit the exhibition area and experienced this unique atmosphere!
Conclusion and flight back home
KCD Israel's inaugural edition was a fantastic experience, and I thoroughly enjoyed myself! I heard that tech workers in Tel Aviv work hard and play hard, and this event seemed to embody that spirit!
You could feel how much the people enjoyed the event. Everyone had a smile on their face, and the talks were always full. Unlike some other events I've attended, people were genuinely present, not working on their laptops during presentations.
KCD Israel is definitely an event I'll revisit!
Before I knew it, time had flown by, and I found myself waiting for the train to whisk me back to the airport.
Links